▽History of Karakara Senbei
Tsuruoka city in Yamagata prefecture was governed by Sakai family of Shonai clan in the Edo period.
The lord of Sakai family was very much fond of sweets therefore many kinds of sweets were made in Shonai area.
And one of these sweets is Karakara Senbei.
It is said that the name "Karakara" came from the rattling sound of the toy when you shake this rice cracker.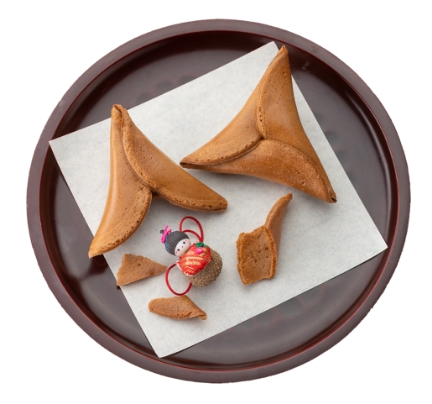 ▽Our commitment to the taste
Karakara Senbei is made of the best quality brown sugar from Yonaguni island in Okinawa prefecture, the west most end of Japan.
The brown sugar from Yonaguni island, which is bathed in an abundant sunlights has the great nutritive value, especially rich in minerals.
We generously use brown sugar so that the moment you put the rice cracker in your month, the rich fragrance of brown sugar will fill your mouth.
You can enjoy full-bodied taste of the brown sugar that is particular to the brown sugar from Yonaguni island. We have a reputation that the big fan of brown sugar will groan with the taste of our cracker.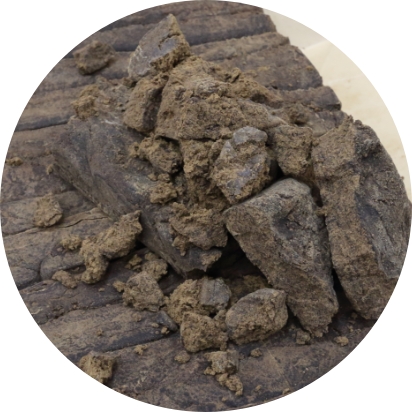 ▽What is Karakara Senbei?
It is a triangular-shaped rice cracker made with the humor and dreams.
When you break it, you will find the toy that instantly makes you smile.
It has been appreciated as a special product mainly of the Shonai area in Yamagata prefecture from old days. Thanks to the customers, we sell Karakara Senbei in the department stores of various parts of Japan, as a special product of Yamagata.
Karakara Senbei is handcrafted carefully one by one.
They bend the very hot and round dough from the oven quickly into a triangle shape then put the toy inside neatly. It requires a dedicated craftmanship.
There are more than 150 in varieties of toy, from a specially crafted toy, folk craft to the accessories, all of which will bring you smile.
And most of the toys are handcrafted.
This experience of braking the rice cracker, opening the wrapping paper wondering what is inside might make you feel somewhat nostalgic, as if bring back the childhood memory. It is a moment of smile.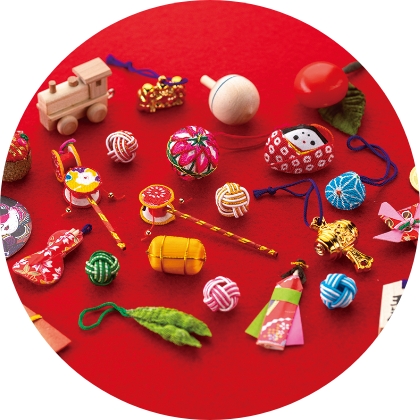 Places where you can buy "Karakara Senbei"
Stations or airports in Yamagata Prefecture,
Or you can buy it at famous department stores all over Japan